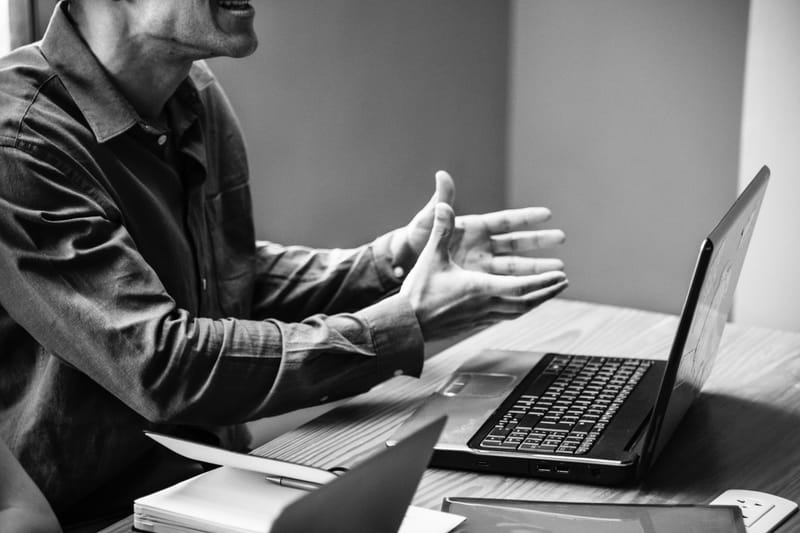 Given today's economy, I consider myself both lucky and rewarded. On luck's side, I found a career I've stuck with through thick and thin (nothing to take for granted in today's rapidly changing marketplace). And as far as reward, it is that nothing of great value is given to us without time, yes 'sweat equity' and commitment, and I've worked very hard as well to get to where I am.
A big part of the gratefulness I feel is that I've loved my career. It began over 30 years ago when I worked as a substance abuse counselor while finishing graduate school. Over the last three decades, my work has afforded me incredible experiences. All because I sought them out, based on what I understood about who I am, what I'm good at and the needs of the workplace.
No matter what professional experience I've had, I've been told I have an approachable manner that puts most people at ease. As I've progressed in my work, I've become more confident, sometimes 'challenging' of my clients and I use humor more than ever in my work. As I like to say I first had to learn the rules and then I knew when and where to 'break' them, in the service of helping my clients. Sterile, too-medicalized counseling is not me. I'm like the small town doctor who wants to take her time and get to know you before suggesting what you need to do. One of the primary reasons I went back into solo practice this past year was my frustration with organizations whose therapists were on a therapy mill, which burns out helpers and has clients feeling like a number.
I've always been very ethical in my practice. In fact, what I just said above is an indication I haven't lost my care for the profession. This can happen in today's counseling practices where it's all about the numbers.
My hope is that as you invest your time and effort in conversations with me, we work together to help you pursue goals that mean the most to you. That's my overall mission in supporting you. The specific goals we work on are up to you!
FAST FORWARD:
In the last few years or so, I've started to really enjoy providing video/digital therapy. And my clients haven't complained. Most of them love it, because it's really no different than in office therapy. And the benefits in terms of time savings and convenience are a blessing. So like I've done at other times in my career, I've joined the 'cutting edge' of what clients want and need. Now is no different.
I've made a business commitment to growing my video services. To be of service to more individuals who might not have sought mental health treatment or coaching otherwise!
So just what is Online, Digital, Video, Virtual or Tele-Therapy, Counseling and Coaching?
There are many terms being used to describe therapy or coaching that is not done in a traditional 'brick and mortar' office. Whether you call it:
Online
Virtual
Tele-health
Tele-coaching
Tele-therapy
E-therapy
Texting Therapy or
Video counseling
Sessions are held on an encrypted video service via talk or via text with your coach or counselor using a device such as your smart phone, tablet, i-pad, laptop or computer.
You avoid many stresses already, just by meeting online.
Either way you now have a 'no fuss, no muss' option to talk to a qualified, licensed therapist to receive the care you need.Currently Barb Elgin accepts several insurances for tele-therapy services for Marylanders, including United Health Care, Medicare, OPTUM EAP, Carefirst, Humana Tricare East, Tricare Military, Humana, Humana EAP, Aetna, Cigna and Cigna EAP.
Barb Elgin also offers affordable self pay counseling and coaching plans.
Why E-Therapy, Tele-Counseling and Tele-Coaching?
BOTTOM LINE:
Video services respect today's fast pace of life. Tele-psychology services save you time. And often, money too. You waste less time, energy and hassle getting to and from your sessions, freeing you up to make the magic happen! Online counseling makes more time for you to take care of you.
Many busy professionals, moms, dads, students, those in rural locations and those with disabilities are utilizing video services with success. Video therapy or coaching can be 'safer' and 'less stressful' in that you avoid having to go in to an office, complete with the frustration of today's traffic jams, distracted drivers and parking prices. And even if there is a snowstorm, or the weather is otherwise an obstacle, you can still connect with your therapist or coach.
Easier on the Environment too!
Did you know that you can conserve energy and decrease your carbon footprint by doing video sessions.*
Does Virtual Therapy and Coaching and Tele-Counseling work as well as going to an office?

Yes, video therapy specifically has been shown in research to be an effective form of therapy.*
Video therapy is effective for many if not most individuals, including those who have difficulty getting general, basic mental health care due to long office waiting lists in the greater Baltimore area. A recent study, for example, showed that Maryland does not have enough mental health professionals to handle the need in our state.
In fact, this is one of my primary motivations in offering virtual therapy to people in Baltimore, Maryland and surrounding areas of Central Maryland at this time.
My
coaching services
are available nationwide.
Are Your Tele-Therapy Services Private/Confidential?
Yes, I follow HIPAA-standards in engaging with you online, such as an encrypted video conferencing system, a secure patient portal and encryption for email, phone and text communications, etc. In addition, there are steps I will teach you to take to ensure you create a quiet and private place for you to be during your sessions.
Barb Elgin's Video Therapy and Coaching services may be appropriate for you if you...
Are comfortable with the technology and preparation needed (or you are willing to learn).
Have had video therapy or counseling before and are familiar with how it works.
Are ready to experience the advantages of video therapy (convenience, savings of time and money).
Have been unable to find the right therapist for you in your area.
Struggle to meet face-to-face with a therapist and prefer virtual care.
Are struggling to deal with the psychological, behavioral and/or social challenges of making a critical, 'developmental' life transition such as going from adolescence to adulthood, dating and choosing a life partner, traversing the changes of midlife or empty nest, growing your self esteem, dealing with the physical and/or emotional shifts happening as you age in our fast-paced, complex world today, or you want to begin or adjust to semi or full retirement.
Don't have a history of severe mental illness but you are currently facing a loss or other major life change such as not being able to find the right 'fit' in your work, job loss, business failure, death of a loved one, separation or divorce, change in your physical health, living as a self-affirming LGBTQ person (or becoming more accepting and supportive of your LGBTQ loved one), a chronic physical health challenge that is creating mild-moderate levels of emotional and social stress or any other form of stress that is to the point you feel you need support. Examples include obesity concerns such as post-bariatric surgery counseling, weight loss and maintenance and dealing with energy debt due to illnesses such as chronic fatigue syndrome, lyme disease, fibromyalgia, cancer, heart disease, diabetes, autoimmune disorders, immuno-deficiency syndromes, etc.
Have 'life purpose' or 'happiness' concerns - you are generally mentally healthy but you want to enhance your life or reach higher potentials, by making a greater impact personally and/or professionally.
Want to improve certain relationships in your life, such as with yourself, a parent, sibling, spouse, adult child, etc.
Are looking to create greater life balance, slow down and 'do less/be more'.
BOTTOM LINE:
Because I provide services virtually and mostly self pay, I am able to focus my time on serving less clients more comprehensively than most therapists who are caught in the grind of 100% face-to-face, fee for service. These therapists have higher burnout and because they are 'too busy', often their services are experienced as less satisfying. In addition, I work very closely with all of my clients such that if at anytime during the treatment process it becomes apparent he or she might benefit from care other than video therapy, I help them find the type of care that best fits their needs at that time.
Who is Video Therapy NOT for?
I don't treat more complex issues like schizophrenia/psychosis and severe depressions or severe manic depression/bipolar because video therapy is inappropriate for those issues. I am not able to virtually treat issues such as mental health crisis (suicidal or homicidal), court-ordered treatment, PTSD, OCD, (severe), sexual disorders, substance addiction (including detox), domestic violence and treatment-resistant depression.
Why?
Face-to-face treatment available in the community is most effective for these concerns.
There is a wonderful 'continuum' of care in the various counties of Maryland today, including outpatient, intensive outpatient and partial hospitalization. And, many communities have mobile crisis. These are all alternatives to the emergency room and inpatient psychiatric care and are often used to avoid the more disruptive level of care which inpatient often is.
Check with your current insurance provider and/or local emergency services for referrals.
READY TO TRY VIDEO THERAPY OR COACHING?
Call me 410-967-3848 and we'll set up a complimentary video consult.
-----------------------
*1. Client acceptability and quality of life – telepsychiatry compared to in-person consultation D Urness , M Wass , A Gordon , E Tian , T BulgerFirst Published July 1, 2006 Research Article -
https://doi.org/10.1258/135763306777889028
.
2. World Psychiatry. 2014 Oct;13(3):288-95. doi: 10.1002/wps.20151. Guided Internet-based vs. face-to-face cognitive behavior therapy for psychiatric and somatic disorders: a systematic review and meta-analysis. Andersson G1, Cuijpers P, Carlbring P, Riper H, Hedman E.
3.
Telecommuting is Cleaning the Air Around You. Saves Energy Too!
MOST IMPORTANTLY: If you've come to this website and right now your symptoms are severe - meaning you believe you are or might be a danger to yourself or others - you must call 911 or go to your nearest emergency room to receive the care you need right away. Resource:
National Suicide Prevention Hotline
- 800-273-8255.